Karen Billingsley-Roberts
KASSIE ( Camp Counselor )
BORN 1 October 1948
MARRIED 1996 to Dale Roberts
DIED 1 June 2001 ( this date is from the US Social Security Death Index which is a highly accurate record )
Kassie hailed from Pittsburgh Pennsylvania. She attended Slippery Rock College (now University), and Columbia University.
Kassie became a member of Onanda's family the summer of 1967 and returned the next summer too.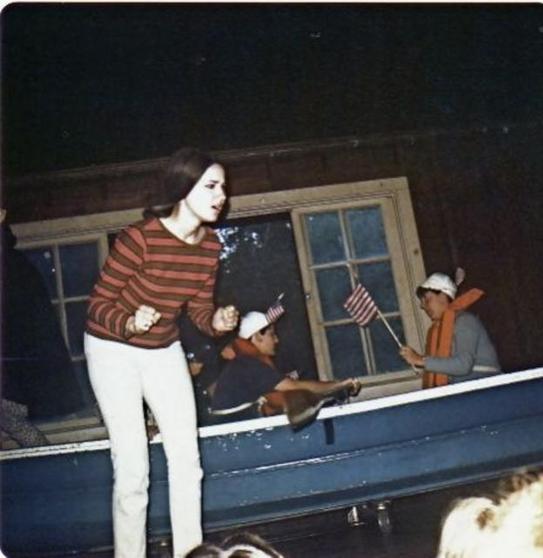 June 7, 2001

Karen A. "Kassie" Billingsley, 52, deputy director of a new institute on spirituality and health at George Washington University Hospital, died June 4. She lived in Silver Spring.

Ms. Billingsley, who also was coordinator of the hospital's chaplaincy program since 2000 and an adjunct professor at the medical school, was stricken with cardiac arrest at her office on the George Washington campus, only a few days after the opening of the educational and research center she helped establish.

The institute, which examines the role of spirituality in coping with illness, marked a departure for Ms. Billingsley, who lived in the Washington area since the late 1970s and had careers in government and educational administration.

A native of the Pittsburgh area, Ms. Billingsley received a bachelor's degree in sociology from what is now Slippery Rock (Pa.) University. She received a master's degree in administration from Columbia University in 1971 and a doctorate in higher education and administration from Columbia in 1978.

She worked as an assistant dean at State University College at Fredonia, N.Y., in the 1970s, and as a social sciences analyst in New York before moving to the Washington area in 1979. She lived in Washington before moving to Silver Spring in 1996.

She worked as a budget analyst for the Department of Health, Education, and Welfare and as a budget official for the Education and State departments in the early 1980s. From 1987 to 1990, she was the budget officer for the Coast Guard. For that service, she was awarded the service's, Bronze Medal.

From 1990 to 1999, she was the director of financial and resource management for the U.S. Equal Employment Opportunity Commission. During this period, she began volunteering as a lay chaplain at George Washington hospital, which led her to her most recent positions.

She was a member of St. Stephen Martyr Catholic Church in Washington.

Her hobbies included gardening.

Survivors include her husband of five years, Dale Roberts of Silver Spring; four stepchildren; her father; six brothers; and two sisters.
Kassie Billingsley was a camp counselor at Onanda during the summers of 1967 and '68. We remember Kassie as a loving, kind, and gentle person.
Her campers, as did the staff, loved to hear her sing and play the guitar.
Kassie, a native of Pittsburgh graduated from Slippery Rock University in 1969. In 1978 she received her doctorate degree from Columbia University.
Kassie died on June 4, 2001 in Washington D.C. at the age of 52.
She was deputy director of a new institute on spirituality and health at George Washington Hospital. Her obituary from the Washington Post will shine light on her many achievements.
Our good fortune was to have shared those special Onanda summers with such an extraordinary and loving person.
This was shared by Linda "Mart" Martin