Paulette (Woodliff) Washington
WOODY ( Camp Counselor )
BORN 26 January 1948 – Roanoke, VA
MARRIED 27 September 1975 to Will Arthur Washington
DIED 20 July 2003 – Pleasantville, NY
Paulette graduated from Lucy Addison High School in Roanoke, Virginia and Bennett College Greensboro, North Carolina.
​Paulette became "Woody" of Camp Onanda the summer of 1968 and spent 3 summers at Onanda.
WOODY… A sharing from Kammie 
Paulette Woodliff, "Woody", was at Onanda the summers of 1968-70. In 1969 I was a first-year junior counselor (JC) and assigned to Anekul, with Woody, for sessions 3 and 4. I'd like to share lots of stories about Woody, about after-taps deep discussions concerning social inequities, the meaning of life, our place in the universe, or specific stories about overnights we took the campers on and campfire programs run by Anekul. Unfortunately, I cannot. In 1969 I was about to enter my senior year in high school, trying to find my way as a camp counselor plus this took place 46 summers ago so I was mostly clueless then and have forgotten much now. What I can share are a couple of general memories and some bits and pieces I found while looking through old camp material.

Woody did not know how to swim when she came to camp but two of my strongest memories of her have to do with the lake. Woody took swimming lessons during rest hour and even now I can picture her coming out of the lake in a dark swimsuit, shaking the water off her head, and having a big smile on her face. My other lake memory comes from a time when there was an unturned buddy tag after a free swim. When that happened missing camper procedures would start and all waterfront counselors would go to the dock, form a hand-to-hand line and move in tandem to check the beginning, intermediate, and advanced swimmer areas. By the time I got to the waterfront the missing person was found in Crouch and I saw Woody coming out of the beginner's end wearing shorts and a blouse and was soaked. She could not swim but got in anyway, up to her chin, to help find the missing swimmer.

If you say Big Blue Frog to most people who were campers or counselors at Onanda in 1968, 69, or 70 they will probably think of Woody. Woody was the Big Blue Frog in one of the acts during each session's staff show. She was really funny. Big smile on her face, blue clothes, and swim fins on her feet. Over the years I would occasionally think back about the skit and song. If anyone else had been the frog it would have just been a cute, funny skit. Woody being the frog gave real meaning to the words and the song's message of tolerance. 

Looking through the camp material I found a note to me from Woody written while we were co-counselors (cos). She was asking forgiveness for "being such a rotten co today". I vaguely remember the note and am certain I was confused as to why she wrote it. She would have periods of being quiet but she was very much the opposite of a rotten co. She then went on to basically say she tried to keep people from liking her and forming friendships. She failed miserably to do that. As another counselor wrote, "She endeared herself to all of us in the three years she was at camp."

At the end of each session, the JCs compiled and printed a camp magazine called Ohonta. Third session, 1969, one of the campers in Anekul wrote the following. 

"One of my counselors is Woody. She sticks birdseed down Grace's (another counselor) pants, hangs her hat off the tennis fence, and pours water in her hair and down her back. Woody likes to read comic books. She's very funny, has a very goofy personality, and takes away store cards. All the same, she is real nice. "The camper finishes saying "Kammy and Woody play a lot of jokes. I enjoy them and laugh my head off. My counselors are really funny." Woody's practical joking is also brought up in an issue of Ohanta from 1970 with Grace again the target.

Fourth session 1969 Ohanta's theme was "Happiness is." Woody was the only counselor who submitted a list of "Happiness is" items. Some of the nineteen items on her list are: 
flag ceremony when everything goes well
a clean Abode
hearing a camper say, "You're the BEST counselor I ever had."
people who smile and say, "hi"
wonderful fellow counselors
the big-wigs
staying at Onanda an extra two weeks
returning to Onanda again and again
While trying to decide what to write for my memorial about Woody I asked Hilary Green, "Hilly", for some help figuring out a timeline. Hill answered my questions, added a nice story about a discussion she had with Woody, and said "Woody had a quick sense of humor and made everyone feel at ease. She listened closely to what you said and it was obvious by her response that she was interested. She often responded in a very insightful way. Woody shared her warmth, wisdom, and integrity with all."

For me I would use the following adjectives and nouns to describe Paulette Woodliff: Funny, perceptive, caring, sensitive, senior counselor, co-counselor, teacher, prankster, big blue frog. I continue to carry what I learned from her so many years ago and am fortunate to have been her co-counselor Anekul.

Thank you Woody.
There are lots of Woody stories out there. Please feel free to send in any remembrances, specific or general.

Below – Woody as a college freshman (left) and college senior (right)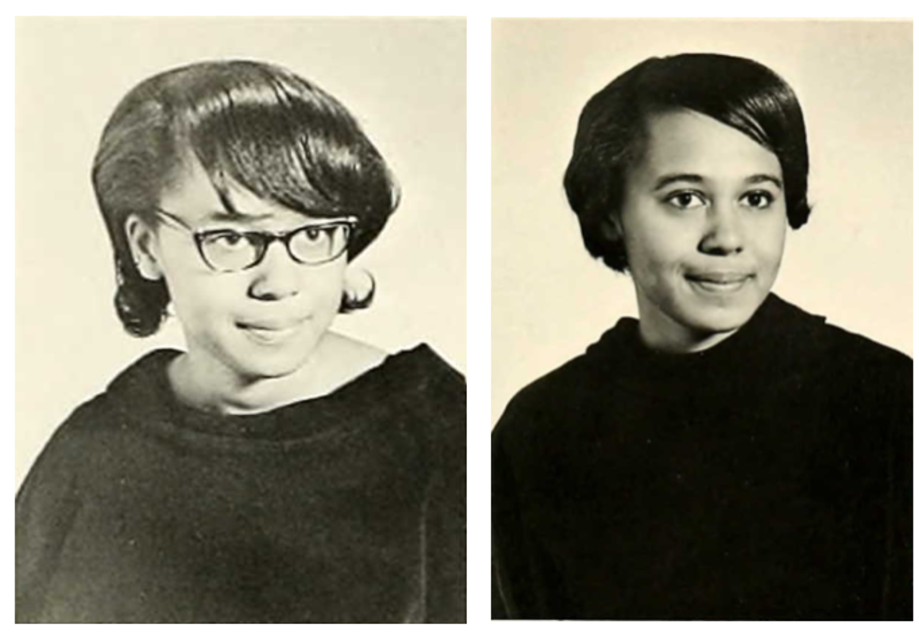 My Memory of Woody (Camp Onanda 1970)
from June Cuthbert, "June"
I enjoyed Woody's fun personality during the summer of 1970 when I was a Lower Camp counselor. Woody performed a great campfire skit to the Boa Constrictor song (see the words in the "Songs" section of the website). She stood with a green sleeping bag bunched around her ankles and started singing the words, "Oh no—he swallowed my toes." As the song continued, she'd move the sleeping bag upward to the corresponding body part. "Oh gee—he swallowed my knees; oh fiddle—he swallowed my middle; oh heck—he's up to my neck; oh dread—he's reaching my…(slurp)"; and Woody's head would disappear as she flipped the top of the sleeping bag forward, showing only a red construction paper "boa constrictor tongue"! Campers and counselors were howling with laughter as Woody emerged with a big smile. She enjoyed the skit as much as her audience.